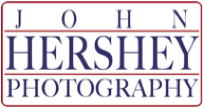 In this book you join the captain and the crew of the Annabelle as they go crab fishing in the waters near Bodega Bay. Before the season opens the crew prepares the crabbing gear. Your journey begins as the load the crab pots onto the boat. Then you head miles out into the Pacific Ocean, where they lay the pots, returning later to collect the catch and bring it back to Spud Point Marina. The entire process is documented in photography with captions that lead you through the journey. Enjoy your journey!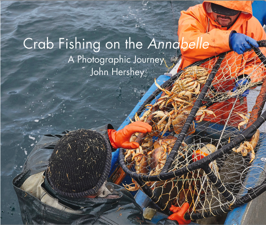 Shop for Books by John Hershey
Crab Fishing on the Annabelle
24 pages Softcover
8" x 9 1/2"
Beautiful and colorful photography is displayed in a coffe-table style book infused with the visual passion and artistic talents of photographer John Hershey.
From the cliffs, beaches, and waterways of the Sonoma Coast to the graceful and atmospheric flights and fishing endeavors of the birdlife in and above the coastal waters of Bodega Bay and the hills of West County, ShoreLines & ShoreBirds transports you to the salty sea air environment of serenity.
Bodega Bay ShoreLines & ShoreBirds John Hershey
28 pages Hardcover
8 3/4" x 11"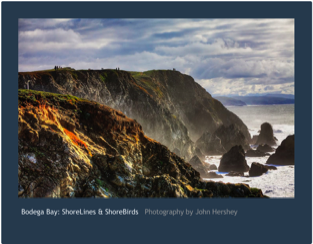 Many of the images from the books above are available as scenic notecards. Cards are blank inside for personal messages. Each comes with a mailing envelope. Cards are available at local Sonoma County shops (see list on homepage).
Custom orders can be made through an email request directly to the photographer. Email hersheyj@jhersheyphoto.com
A Photographic Journey John Hershey
Framed wall prints are available for purchase at all exhibit venues
Custom orders can be made through an email request directly to the photographer.